Gourmet Salads
Gourmet salads encompass all salads other than green salads. Although I love leafy greens some of my favorite salads come from these recipes, in particular my carrot raisin salad recipe which was adapted from the one of the favorites I enjoyed growing up. I'm also quite fond of the corn salad, and many more for that matter. There are tasty salad recipes here that are not only healthy, but will appeal to almost everyone. Most are simple and easy to make with few ingredients.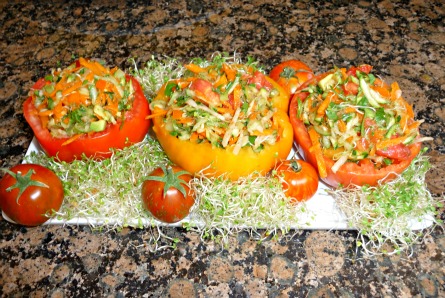 Gourmet salads can contain a variety of ingredients, some you would never usually think of putting together. Some of these salads make their own dressing out of the ingredients and others have dressings added.
These types of salads really allow for thinking outside the box. I think most people have a favorite specialty salad from their childhood, one that they love, but others may think a little strange. That salad only seems a little strange to someone because they didn't grow up eating that combination. At any rate I hope you will post your favorite raw version of your childhood favorite. Beets, fennel, carrots, corn, cabbage, celery, and jicama are a few of the vegetables that can be a base for specialty salads. Nuts and dried fruits seem to be present in many of the recipes below also. And there is one utilizing sprouted grain for those of you who enjoy a very hearty salad.
Something I've done all my life is look at dishes I have eaten and liked or recipes I have seen and thought I might like, and modified them to something I know I would really enjoy. These salads are fertile ground for this technique. You can literally look at another recipe and immediately leave out what doesn't appeal to you, then start grabbing ingredients you do like and see how they might pair up.

Kids Love Gourmet Salads
Making salads is really fun to do with your kids to get them involved in the kitchen and learning about healthy choices. I think everybody should know how to prepare their own healthy meals and teaching kids early is one of the best things you can do for them. They'll be eating for the rest of their lives so they may as well know how to prepare healthy foods and not rely on someone else to do it for them.
Check out all the recipes below and try the ones that appeal to you. And please come back to check out new recipes as they're added and to post your own favorite recipes for specialty salads so everyone can enjoy them.
Share Your Favorite Gourmet Salad Recipes
Do you have a great gourmet salad recipe? One that has helped you increase energy, improve health, or eliminate weight? Perhaps one that you simply enjoy for the mouth-watering flavor? Share it here so we can all reap the health benefits and savor the goodness that you created!

Please include the ingredients and preparation instructions to be sure beginners can achieve the same results when recreating your recipe.
Gourmet Salad Recipes
Click below to see recipes other visitors have shared...

Thank you for your recipe.

---
Home page > Raw Food Recipes > Gourmet Salads
Subscribe to Vibrant Living Newsletter!