Spicy Asian Salad with Kimchi
by Hugh
(Fairfax, CA)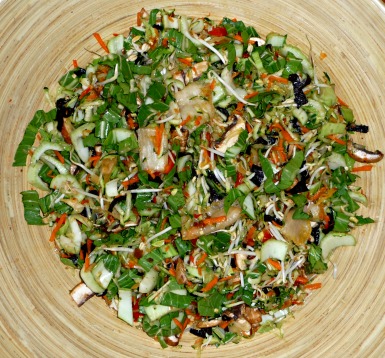 This is a really fabulous recipe. It's so easy to make and has huge flavor like a gourmet dish that took hours to create. I loved it so much I made it again the next night.

1 large zucchini shredded

1 large asian or other soft skinned cucumber

6 to 8 crimini mushrooms sliced

large double handful of mung bean sprouts

3 sheets of nori seaweed cut into thin slivers

5 to 6 baby bok choy sliced thinly

Juice from ½ lime

1 to 2 cups of kimchi (I used Rejuvenative Foods raw kimchi for this recipe.)

1" chunk of ginger finely diced

1 red pepper finely chopped

1 avocado spooned out into small pieces

1 carrot shredded

Mix all ingredients together into a large bowl and mix well. Let stand 20 minutes, mixing briefly every five minutes. This gives the flavors a chance to release and mingle, and for the veggies to soften slightly. Enjoy!