Raw Dog Food Recipes
Looking for some raw dog food recipes? One of the most precious members of many families is the four legged pooch that licks your face to tell you how much he loves you.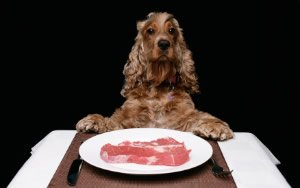 If you are considering changing your diet to include more raw foods, then it only makes sense to change the way your dog eats as well. After all you want your best friend's diet to be as healthy as yours so you can enjoy an active lifestyle together. Here are a few considerations about raw dog food recipes.

First, just like people, all dogs are different and may have different nutritional needs, so you should check in with your vet first to make sure you'll be providing healthy raw dog food recipes. Second, transitioning might be the best way to go, allowing 1-2 weeks for your dog's digestive system to adjust from a highly processed diet to an all raw diet.
You'll be able to monitor the progress not only by the increased energy and silky coat you're seeing, but by doing a quick inspection when you're doing the poop pick-up.  If your dog's stools are too wet and loose, then slow down the transition a bit. Over time your pet's coat, breath, and stools should smell quite a bit less offensive.
Although we think of dogs as carnivores, it's interesting to note when wild dogs in nature take down a kill the first thing they devour is the intestines, which are full of nutrient rich predigested plant material. So in reality dogs are omnivores. Obviously the main ingredient in each meal will be some form of animal protein, but some bones and cartilage should be included at times. Some greens or other vegetables, and an egg here and there, perhaps some kelp powder and most importantly essential fatty acids should be included in your raw dog food recipes.
I want to note here that you can feed your pet a completely meat free diet. Many vegetarians don't feel right about feeding their dog meat and have successfully switched them to a vegetarian based diet. In this case you will want to make sure that your raw recipes have high quality protein sources in them.
Two meals a day with appropriate portions should have your dog looking leaner in a few weeks, and remember most people tend to over feed their pets. Now let's look at some sample raw dog food recipes, and keep in mind they may vary depending on your dog's size and individual needs.
Quick & Easy Raw Dog Food Recipes
Turkey Neck Supreme
1 lb turkey necks
1-1/2 cups blended greens
1 egg
1 tsp kelp flakes
1tbsp flax seed oil
Beef Dinner
1 lb beef
1-1/2 cups blended greens and carrot
1 tsp kelp flakes
1 tbsp flax seed oil
& a bone for desert
Puppy Chow (8 to 12 weeks)
½ lb ground beef
½ cup blended greens
½ tsp bone meal
1 tbsp flax seed oil

It's incredibly important to mention that just as for you; exercise for your dog is a very important part of a healthy lifestyle. If you don't have time to give your dog a good walk every day, then hire a dog walker to get the job done.
If you decide you don't want to prepare your own raw meals there are companies that provide pre-packaged raw pet food for your dog. Make the best decision you can for the health of your dog. Start them on a raw dog food diet, and find raw dog food recipes that will make your pet come back for more.
Click here if you would like to learn more about the raw food diet for humans.

"There is so much we do not understand about the subtleties of nutrition that we are essentially shooting in the dark when we start to alter and process our foods."- Dr. Gabriel Cousens


Raw Foods Home > Raw Dog Food Recipes


---
MEDICAL DISCLAIMER
The contents of this website and my newsletter are gleaned from my experiences and observations, meant only for educational purposes and not intended to replace medical advice, consultations, or treatment of any kind. I recommend you see your professional health care provider if you suspect you have an illness or disease of any kind. I'm not medically trained, and I would never suggest or imply that I know what is best for someone else's body or overall health, ultimately each of us is the only one who knows what's best for us.
Subscribe to Vibrant Living Newsletter!