Fruit Juicing Recipes
Juicing recipes can vary greatly in their composition and degree of complexity, but one thing is for sure, this is an excellent way to get great nutrition in a way that's very easy on your digestive system.
The recipes on this page are predominately fruit based that may have some sweet vegetables like carrot, beet or sweet potato.  If you are more interested in vegetable juices then there are a host of great vegetable juicing recipes.
There's no doubt that fruit juices are very tasty, but I believe overall that fruit juices by themselves are not a good idea long term.  Fruit should be eaten whole with all the fiber intact so that the sugar from the fruit does not hit the digestive system quickly and cause insulin issues, which will lead to disease and premature aging.  There are exceptions to the rule listed below.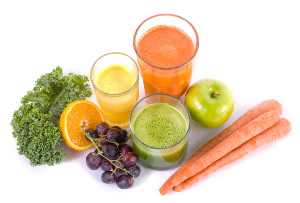 Three Reasons to Drink Fruit Juices
1) If you're trying to get your kids to eat healthier then fruit juices can work short term.  Once they are enjoying the fruit juices, then slowly start to add in some leafy greens or other vegetables. If you go too quickly with the greens then the kids will not want the juice any longer. It's more about the idea of the greens and the color of the juice than the actual taste that stops them in their tracks.
2) If you're adult wanting to clean up your act and become healthier. Just as with the kids, add the leafy greens in fairly slowly, but you can add the greens in more quickly than you would with kids. The idea is to transition to mostly green juices over time.
3) If you're doing a juice cleanse or fast where you will need the calories provided by fruit to sustain yourself in your daily activities. Still many of these will be a combination of fruits and vegetables like the ever so tasty watermelon and celery which is a great fasting juice.
Ingredients for Juicing Recipes
All green or greens and vegetable juices are best, however sometimes they can be a little harsh so adding in a small amount of fruit to the juicing recipes can help make them more palatable. It's better to drink a green juice with some fruit than no green juice at all because you can't get it down.  The funny thing is that many people who at one time would grimace at the thought of a green juice get to the point where they actually crave green juices and want no others.
Kale, collards, bok choy, cilantro, and parsley can be harsh for the beginner, but lettuce, celery, and cucumber are quite mild actually. Even the inclusion of a lemon or fresh ginger root can take the bite out of a green juice. Of course a few carrots, an apple or pear can make it quite nice.
You have to experiment to see which combinations will work best for you and your taste buds, but for now look below to see what wonderful fruit juicing recipes have been submitted for your enjoyment and transition.
Share Your Favorite Fruit Juicing Recipes
Do you have a great juicing recipe? One that has helped you increase energy or eliminate pain, or one that you simply enjoy for the mouth-watering flavor? Share it here so we can all reap the health benefits of it and savor the deliciousness!

Please include the ingredients and preparation instructions to be sure beginners can achieve the same results when recreating your recipe. And if you have a picture please include it as well.
Fruit Juicing Recipes
Click below to see recipes other visitors have shared...

---
---
Subscribe to Vibrant Living Newsletter!
Home Page
>
Fruit Juicing Recipes
>
Juicing FAQ's
What Other Visitors Have Submitted
Click below to see contributions from other visitors to this page...


Tomato Tuff Not rated yet
Ingredients 4 tomatoes 2 celery stalks 8 romaine (cos) lettuce leaves 2 swiss chard (silverbeet) leaves and stems 2 rainbow …