Parsnips and Greens
by Hugh
(Fairfax, CA)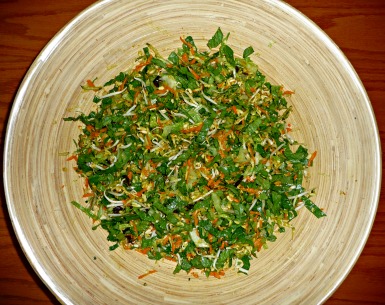 Parsnips and Greens is a really good recipe when tender sweet parsnips are available at the markets or from your garden. It's a great change up from the traditional green salad and is very hearty and filling for a salad. I have served it here with a turmeric guacamole dressing that really adds flavor and gives it that stick to your ribs quality.

1 head of romaine lettuce slaw cut

1 or 2 parsnips shredded

2 carrots shredded

2 handfuls of fresh bean sprouts

1 to 2 cucumbers shredded

1 handful of dulse torn into small pieces

Toss all ingredients into a large salad bowl and dress with your favorite raw salad dressing. I use a simple box grater to shred, but you could use a food processor.

Turmeric Guacamole Dressing

1 lime juiced

1" chunk of fresh ginger root finely diced or grated

1 ripe avocado

1 tablespoon of turmeric

Mix all the ingredients in a small bowl and mash with a fork until well mixed. Add a little water if needed to thin. Pour over the salad and toss until well mixed. This is a good recipe for a potluck as the texture softens with time and it travels very well.

Join in and write your own page! It's easy to do. How? Simply click here to return to Gourmet Salads.
Subscribe to Vibrant Living Newsletter!