Sweet & Sour Slaw
by Hugh
(Fairfax)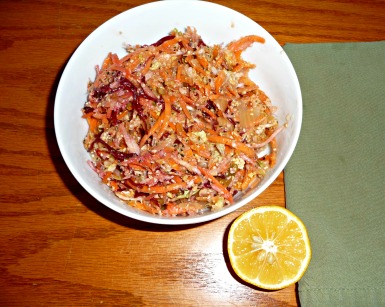 Sweet & Sour Slaw is a great tasting slaw that will dazzle your friends and family. It can be a side dish to compliment others or served as main course, which is the way I served it.

I used the food processor with the shredder wheel/attachment and made this recipe in about 5 minutes. I have made similar recipes using a grater and a very thin slice cut on the cabbage. It's so easy to make and cleanup is a breeze.

I have to say I was really amazed at how marvelous this slaw recipe was. I think it is important though to make sure the cabbage is more sweet that hot. Sometimes cabbage, even Napa cabbage, can be very hot and bitter, and that would not work well in this recipe.

The carrots and almond butter also adds to the sweetness as do the hempseeds. I'm speaking here from the perspective of a raw fooder with a clean palate able to discern the natural sweetness of foods. Romaine lettuce for example can be amazingly sweet sometimes, but many people could not discern that sweetness because of the way they have abused their palate.

The good news is that with right eating the palate will return to its natural condition of being fully able to discern even the subtlest of flavors as nature intended.


Ingredients for Sweet & Sour Slaw

½ head Napa cabbage

2 stalks celery

2 carrots

2" chunk of fresh ginger root

½ small beet root

juice of ½ lemon

2 to 3 tablespoons raw almond butter

2 tablespoons raw hemp seeds

1 cup raw kimchi


Instructions

Process all the fresh vegetables through the food processor. Add to a large bowl and mix in the almond butter, hemp seeds, lemon juice, and raw kimchi. Mix thoroughly and serve.

You can use a good quality raw almond butter or make your own by soaking almonds for 24 hours and processing in the food processor or blender. I used a good raw kimchi I get locally at my organic natural health food store.

This recipe makes a main course serving for one.


Join in and write your own page! It's easy to do. How? Simply click here to return to Gourmet Salads.
Subscribe to Vibrant Living Newsletter!