Gazpacho Salad
by Hugh
(Fairfax, CA)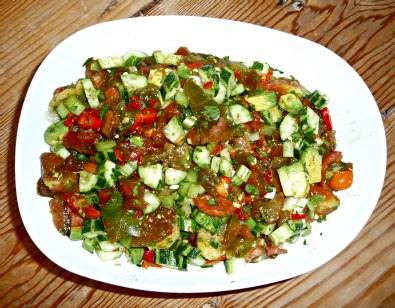 This is a great summer time meal that rehydrates the body and satisfies the senses. You can add some hot peppers to spice it up or enjoy as is. A few raw crackers on the side are a nice addition.

Mix all ingredients in medium sized bowl and chill slightly. Makes a meal for one person or a light meal for two.

1 large cucumber small chop

5-6 heirloom tomatoes small cut

Handful of cilantro fine chop

2-3 sweet peppers small cut

2 stalks of celery small chop

¾" fresh ginger root finely diced

½ lemon juiced and chopped (not rind)

1 avocado small chop

I used a striped Armenian cucumber which is soft skinned like the Persian and some of the Asian varieties. I use them because they have great flavor and are so much easier on the palate.