Raw Appetizer Recipes
Raw food appetizer recipes are a wonderful way to show friends and family just how tasty and fulfilling the raw diet can be. On the other hand you have to be careful, because like their cooked food counterparts, some raw appetizers can be very high in fat. As long as you pay attention to that and use them for what they are, appetizers, and not as a main course you'll be fine.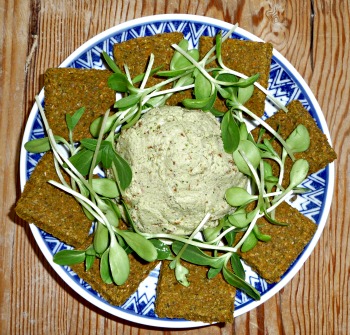 An appetizer recipe shared with others and followed by a large salad can indeed be a very healthy meal. Just remember fresh is best. It's OK to have a "special" or dehydrated appetizer dish now and again; however the raw diet is based on fresh raw foods with all their natural juiciness intact.
Other things to look out for are hidden additives that not only may not be raw, but can also be detrimental to your health as well. Let's face it, there's no use in trading in one poor diet for another. The substances I'm talking about are things like namo shoyu, nutritional yeast and agave nectar. Basically if it's not from a whole plant food, it's probably not a good idea to eat it. I think a little miso, although not raw, and a little sea salt are acceptable additives to raw appetizer recipes.  The reason I think miso is OK is because it's alive with cultures and is a "living" food, just like cultured vegetables or sauerkraut. In the end it's up to you to set your own healthy parameters as to what is acceptable and what is not.
Now that we've covered what to look out for with appetizer recipes, let's look at some of the good things about them. Appetizers are a part of the meal that you can get really creative with, and produce some wonderful tasty recipes that you'll be proud to share with others. They tend to be fairly calorically dense so they pair nicely with salads, and vegetable sticks. They are a great way to incorporate some healthy fats into your diet, while still enjoying lots of fresh produce.
Spice up Your Life
Appetizers are a great way to sneak healthy herbs and spices into your raw diet, especially herbs and spices that you may not add to a regular raw dish. These flavors will go well in your raw appetizers, and give you a chance to enjoy the health benefits of a little rosemary, chive, turmeric, nori, or dulse, to name just a few.
And as I touched on above there is nothing like a great tasting raw recipe to get people thinking positively about the raw food diet. If you can share a tasty raw appetizer with someone they will be much more accepting of your raw diet regime, and may even consider including a few raw recipes in their own diet. This way you get the message out about how healthy and good the raw food diet can be, but you don't have to beat anybody over the head or scare people off.
The recipes below can be tweaked by you to suit your own needs or simply used as a starting place for ideas for your own tasty recipes. Please share your own tasty recipes with the rest of us so we can spread the word and enjoy them too.
Share Your Favorite Raw Appetizer Recipes
Do you have a great raw appetizer recipe? One that makes your mouth water just to think about? Share it here so we can all reap the health benefits and savor the goodness that you created!

Raw Appetizer Recipes
Click below to see recipes other visitors have shared...

Raw Foods Home    >   Raw Food Recipes   >  Raw Appetizer Recipes

Your first paragraph ...
Subscribe to Vibrant Living Newsletter!