Green Salads
For me green salads are the foundation of the raw food diet and should be eaten in copious amounts. Sometimes people new to the raw diet say they can't eat salads all the time and I understand that, but there are many ways to dress up a simple salad. Most people grew up eating a green salad that consisted of iceberg lettuce, with a little cucumber and tomato, so it's no wonder people think salads can be boring after awhile. But we'll put an end to that line of thought right here and now.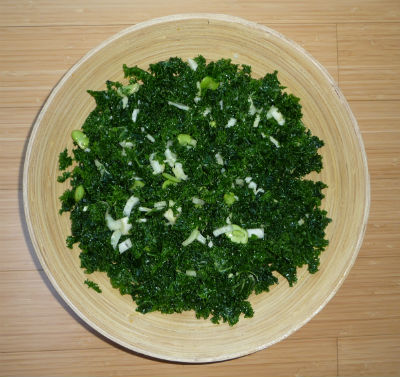 The base for your salad can be any type of lettuce, spinach, bok choy, collards, kale, spring mix or any other greens or combination of greens you enjoy. The recipes below show a wide variety of tasty salads with deviations from the norm to give you ideas to experiment with in your own kitchen.
The accompanying vegetables or fruits and dressings that go into your green salad can transform your salad into whatever you would like. Foods like sun dried tomatoes, fermented veggies, and raw olives can add enormous flavor and diversity to a simple green salad. Adding walnuts, sprouts, soaked raisins and sea vegetables will also really liven up a salad. You can gear your salad to replicate flavors from your childhood or from around the world, it's up to you.
The longer you follow a raw food diet the more your taste buds will come alive and you will come to appreciate the beautiful taste of simple greens before you even add anything to them. You will begin to be able to discern the taste difference in the romaine you had from this farmer last week, and the one from another farmer today. This for me is one of the unsung amazing benefits of the raw diet. That produce is pleasant to the taste in its natural state and really need nothing to make them more edible. I sometimes eat romaine, spinach, or spring mix out of hand and people are amazed that I would do that, yet animals in the wild do it every day. You may begin to enjoy some meals out of hand, and may also enjoy some tasty raw salad dressings to compliment your fresh greens.
I think you'll be amazed at how easy it is to formulate your own truly healthy salad dressings. Basically a salad dressing is made up of an acid, like orange juice, tomato or even mango, and a fat, like avocado or tahini. Since salad dressings are so important and can mean the difference between a healthy salad and a health taking salad I have dedicated a separate page to them. Go here to look at raw salad dressings.
Check out all the recipes below and try the ones that appeal to you. And please come back to check out new recipes as they're added and to post your own favorite recipes for salads so everyone can enjoy them.
Share Your Favorite Green Salad Recipes
Do you have a great green salad recipe? One that has helped you increase energy, improve health, or eliminate weight? Perhaps one that you simply enjoy for the mouth-watering flavor? Share it here so we can all reap the health benefits and savor the goodness that you created!

Please include the ingredients and preparation instructions to be sure beginners can achieve the same results when recreating your recipe.
Green Salad Recipes
Click below to see recipes other visitors have shared...


Thank you for your recipe.

---
---
Home page > Raw Food Recipes > Green Salads

Subscribe to Vibrant Living Newsletter!