Raw Salad Dressing
A salad dressing has the ability to make or break a salad. It can raise it into the fabulous category or send it into the compost heap. When I think back to some of the dressings I used eat I start to feel queasy. Practically all of them were loaded with excess fat and most of them contained ingredients that were not health giving. After viewing this page you'll be able to whip up a number of simple, tasty, and most importantly healthy dressings.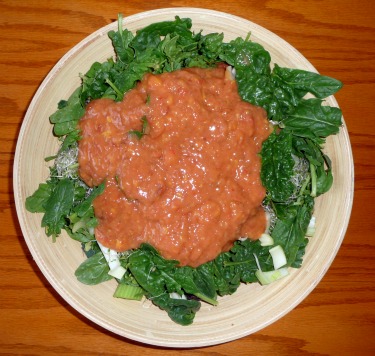 Basically most salad dressings are made up of an acid, which can be any citrus, mango, tomato, or even apple cider vinegar, and a fat, like avocado, olives, nuts or seeds. One of my favorites is orange juice and avocado, or orange juice and almond butter. You mix together in a bowl or put into a small jar and shake until mixed thoroughly. So simple, so fast, and so tasty; this one works with any green salad and may work with some specialty salads as well.
If you have a small blender, perhaps one of the small bullet type blenders then you can really go wild. Mix in herbs and spices with your base and change up the same basic ingredients into a wide variety of dressings. I use my big Blendtec blender for salad dressings like my tomato mango blend, but I am making about half a blender full because the dressing in this case is actually not a dressing but a major portion of the meal. Sometimes that will be the case, you'll be looking to make a more calorically dense salad and so be adding in a fair amount of fruit or squash.
The usual way to add flavor to a salad in the cooked food world is to add fat, but overdoing the fat can turn your healthy salad into a calorically laden health taker. I personally don't use any oils in my recipes other than a little coconut oil here than there. I prefer to use the whole source of fats. If you're new to the raw diet you may find yourself using some oil, but I would encourage you to go easy and to leave it behind when you can.
Many recipes are so simple and use very few ingredients like the tomato hemp seed dressing. That's it, just those two ingredients Blended together and poured over your favorite salad. Simplicity, yet another beautiful trait of the raw food diet. As you will see eating raw does not require many hours of food preparation and cleanup.
Check out all the recipes below and try the ones that appeal to you. And please come back to check out new recipes as they're added and to post your own favorite recipes for dressings so everyone can enjoy them.
Share Your Favorite Salad Dressing Recipes
Do you have a great salad dressing recipe? One that has helped you increase energy, improve health, or eliminate weight? Perhaps one that you simply enjoy for the mouth-watering flavor? Share it here so we can all reap the health benefits and savor the goodness that you created!

Please include the ingredients and preparation instructions to be sure beginners can achieve the same results when recreating your recipe.
Salad Dressing Recipes
Click below to see recipes other visitors have shared...

Thank you for your recipe.

---
---
Home page > Raw Food Recipes > Salad Dressing
Subscribe to Vibrant Living Newsletter!