Super Salad
by Hugh
(Fairfax, CA)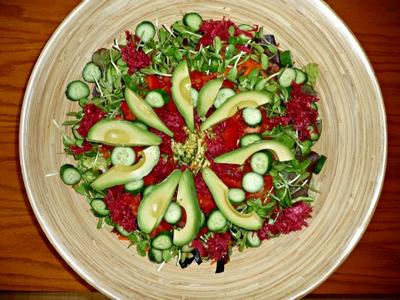 You can see by the list of ingredients why I call this the Super Salad. It's loaded with great nutrition and is very tasty. Mix all ingredients in a large bowl and enjoy. No dressing necessary as the avo and other wet ingredients make their own natural dressing. Easy to make. Easy clean-up. Boy I like the raw food way.

2 heads red butter lettuce

2 carrots grated

3 cucumbers sliced

1 zucchini grated

2 tomatoes

4 sheets nori cut into strips

Large double handful of sunflower sprouts

1 avocado

1 cup cultured vegetables

1" fresh ginger diced

Of course you can always add the juice of an orange or one of your favorite raw dressings if you prefer.

Join in and write your own page! It's easy to do. How? Simply click here to return to Green Salads.
Subscribe to Vibrant Living Newsletter!