Raw Vegetarian Wraps
Vegetarian wraps can be a fun and creative way to play with your food and enjoy a healthy meal at the same time. These wraps are also a great way to incorporate great nutrition in a convenient package that's excellent to travel with. The basic recipe requires leafy greens for the "wrap" and your favorite veggies, sprouts, sea vegetables, and nut and seed butters to fill the wrap. Big collard leaves are perhaps my favorite, but romaine lettuce and bok choy are close behind. I guess it depends on how I feel at the time and perhaps what ingredients I have on hand.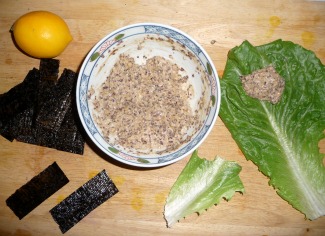 You can sit down with your favorite leafy green leaves and your filling ingredients laid out around you. Grab a leaf and fill it with what you want and enjoy it as you think about what you might add to the next wrap. This method of eating is fun and very satiating as you're continually changing up your wraps to suit your taste at the moment. Building these wraps at the table as you eat is a fun way to get the kids involved in healthy food preparation and they really enjoy it.
The ingredients going into these raw wraps are really the main flavor components of the dish, although if you've been raw long enough for your taste buds to heal you know how even a plain lettuce leaf is bursting with flavor and subtle nuances all depending on where it was grown. Thinly sliced, grated or shredded vegetables all work well in these wraps just as sprouts do because they enhance the flavors, and wraps makes eating them easier. A little sliver of fresh ginger or hot pepper can really spice up these wraps, and fresh herbs mix nicely into the wraps.
Fresh is always best, however these wraps can be made ahead of time as needed for your schedule and activities. Toothpicks can be used to secure the wraps; just don't forget to remove them before eating. A slice of avocado or dab of pate, seed cheese, or nut butter can make these wraps a complete meal. If you crave a little salt add thin slivers of celery or sea vegetables. Two sea vegetables, nori and dulse, both go very well in these raw wraps, just don't overdo it.
Check out all the recipes below and try the ones that appeal to you. And please come back to check out new recipes as they're added and to post your own favorite recipes of raw vegetarian wraps so everyone can enjoy them.
Share Your Favorite Vegetarian Wrap Recipes
Do you have a great vegetarian wrap recipe? One that make your mouth water just to think about? Share it here so we can all reap the health benefits and savor the goodness that you created!

Vegetarian Wrap Recipes
Click below to see recipes from other visitors to this page...

Thank you for your recipe.

---
---
Home Page > Raw Food Recipes > Vegetarian Wraps
Subscribe to Vibrant Living Newsletter!