Spicy Crimini Mushroom Wraps
by Hugh
(Fairfax, CA)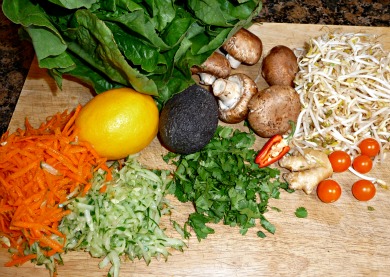 This is a wonderfully juicy recipe that has sort of an Asian flair to it, perhaps because of the mung beans and nori. It was very tasy and ever so satiating. Definitely one to try.

1 large carrot grated

1 large soft skinned cucumber grated

6 crimi mushrooms chopped small

8 oz. fresh mung bean sprouts

1 small avocado cubed or spooned out

1 meyer lemon juiced

4 to 5 sheets of nori cut into eights

½ small hot pepper finely diced

1" chunk of fresh ginger root finely diced

small handful cilantro chopped

1 head of romaine lettuce

I had a few sungold tomatoes from the garden that I threw into the mix as well.

Toss all ingredients except nori and lettuce together in a large bowl and mix well. Peel off a lettuce leaf and place a piece of nori at the top followed by a large spoonful of the mixture. Start rolling the leaf towards the stem and fold in one side along the way. This keeps all the goodies falling out the bottom when you turn it on its side to eat it. Continue rolling to the bottom of the leaf unless the stems are large and crisp. In this case cut off the lower stems before you start to roll the leaf.

When you're finished rolling you can spoon a little more mix in the open end if there's room.

This recipe makes a large meal for one, a medium meal for two, or can be appetizers for a group. Enjoy!