Tomato Spinach Soup
by Hugh
(Fairfax, CA)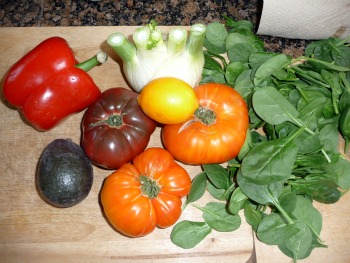 This comes out silky smooth and bursting with flavor.
It's super nutritious and sure to be a crowd pleaser.

2 large tomatoes

1 large red or orange bell pepper

½ fennel bulb

1" chunk of fresh ginger root

1 mango

½ pound spinach

½ avocado

½ lemon, rind and all

Blend all ingredients together and enjoy! If you wanted a chunky soup you could do this in the food processor.

Join in and write your own page! It's easy to do. How? Simply click here to return to Raw Soups .
Subscribe to Vibrant Living Newsletter!