Tomato Apricot Sauce
by Hugh
(Fairfax, CA)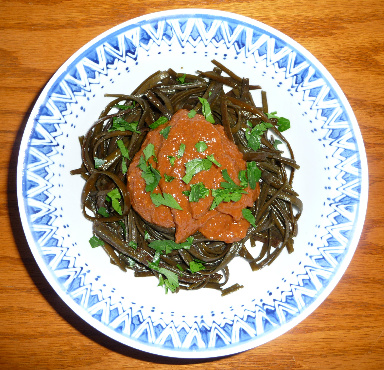 This may seem like an odd combination, but it's really quite good. The apricots are not too sweet so you still get a savory sauce with just a little sweetness. The ginger and hot pepper give nice flavor and a little kick. This recipe makes enough for 2 dishes. I put it on sea spaghetti noodles, and topped a salad of baby greens.

1 cup sun dried tomatoes

1 cup sun dried apricots

1 juicy orange

1 chunk of fresh ginger root

1 small hot pepper

2 tablespoons hemp seeds

chopped parsley to garnish top.

Soak dried fruits in approx 2-3 cups of water overnight. Blend all ingredients for about 20 seconds or until smooth.

Join in and write your own page! It's easy to do. How? Simply click here to return to Raw Pasta.
Subscribe to Vibrant Living Newsletter!