Sweet Red Pepper Soupe
by hugh
(fairfax, ca)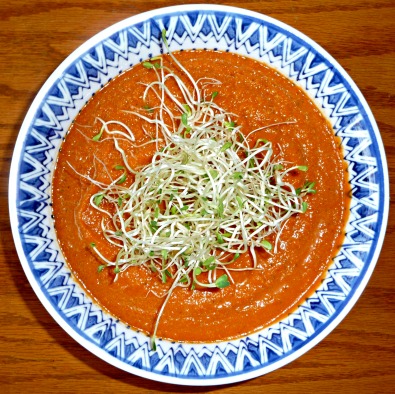 This Sweet Red Pepper Soupe is not only bursting with flavor, but bursting with color as well. It has a pleasant sweet full bodied flavor that is a real treat. This would be a great recipe for a potluck or when that special someone is coming over for dinner.

The soup is comprised of a few simple ingredients that are available at most markets around the globe. I thought about using some romaine lettuce, but decided against it because I wanted to keep the color bright.


Ingredients

3 sweet red peppers

1 golden beet root

6 carrots

1 cucumber

1 small Meyer lemon with rind

1 avocado

small amount of water as needed


Directions

Chop all ingredients and blend until smooth, which is about 20 seconds in your high speed blender. When I say high speed I am referring to blenders like the Vitamix and Blendtec. If your blender is not as powerful as these you may need to blend smaller batches and mix together in a large bowl before serving. The picture shows the soup dressed with fresh fenugreek sprouts.

This recipe, like most of the blended soups on the site is really easy and quick to make and clean up. These soups are also very easy on the digestive system and can be incorporated into a cleansing program of any length. There are enough different soup recipes on the site to keep the palate from getting bored and then there's your own imagination after that.

The soup is a bright orange color so we know it's loaded with many phytonutrients and antioxidants This is also a great cleanser and very high in vitamin C.

This recipe is a good meal for one person or a nice entrée if split with a friend. It could be served with a few raw crackers on the side if you looking for a little crunch.

Join in and write your own page! It's easy to do. How? Simply click here to return to Raw Soups .
Subscribe to Vibrant Living Newsletter!