Summer Corn Soup
by Gretchen
(Fairfax, CA)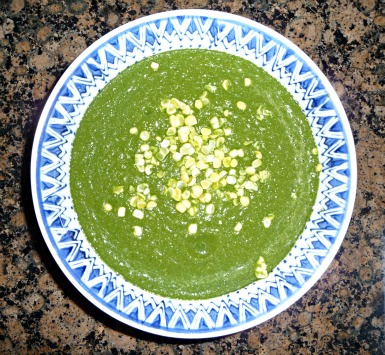 This had a light green and corn flavor with the added dimension of cilantro and the creaminess of the avocado. Really enjoyable for an evening meal when you don't want something too heavy.

Cucumber (1 large or several small)

Romaine (1 head)

Cilantro (1 handful)

Corn (2 ears)

Avocado (1)

Blend the cucumbers first, and add a little water if they don't yield much volume. Then add the greens, blend, and then the corn and blend until smooth. Add the avocado last, blending just a little until smooth and creamy. If desired, reserve a small handful of corn kernels until the end and sprinkle on top of bowl of soup for a garnish. Enjoy!