Raw Spanish Rice
by Hugh
(Fairfax, CA)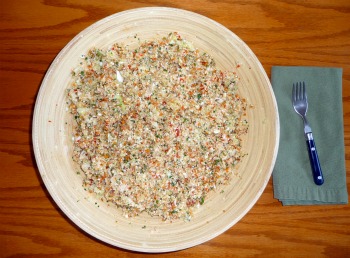 This is another take off on the raw rice recipe. You can do so much with the basic napa cabbage and cauliflower mix; spice it up one way or another to change the flavor in any direction you want to go. This is a really tasty recipe I would be proud to serve for friends.

1 head of napa cabbage

2 heads cauliflower

1 large red, orange, or yellow bell pepper

2 medium carrots

1 large handful of cilantro or parsley

1 large handful of sun dries tomatoes soaked, drained, and chopped

½ cup of raw olives chopped

1 hot pepper

Juice of one large lemon

Process the first 6 ingredients in a food processor until they reach a fine consistency (about the size of rice) and place in a large bowl. Stir in sun dried tomatoes, raw olives, and lemon juice and mix well and serve. Serves two as a main dish or 4 to 6 as a side.