List of foods
by Lacee
(Phoenix, az.)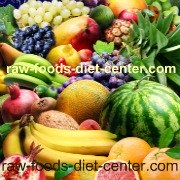 These foods are loaded with nutritional value.
Q What kind of foods do I eat to get all my vitamins in a day?

A A variety of fruits, vegetables, some nuts or seeds, and perhaps some sea vegetables. Check out the many recipes on the site and review the other pages that discuss "Getting Started" and follow the links at the bottom of each page for more detailed info.


Join in and write your own page! It's easy to do. How? Simply click here to return to Raw Food Diet Plan Questions and Answers.