Juicing oranges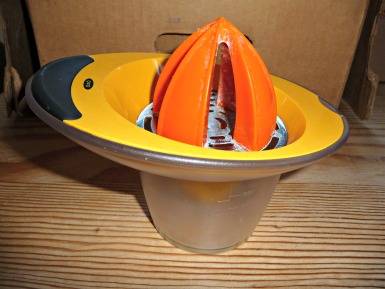 Q Do you juice oranges with the skin on?

A Yes, you do, but you don't juice them in your typical electric juicer. You can juice them by hand as I do, with an old fashion juicer, pictured above. Actually it's a redesign of the old fashioned glass models.

You simply cut the oranges in half, hold the orange on top of the protruding middle section with the peel up, and twist your wrist back and forth. I find it does the job nicely. When I've had no juicer of any kind available I have used a large spoon to ream the orange half as the juice pours out.

Then there is the citrus press, which is more expensive, but probably worth it if you are going to juice for a large number of people. And lastly there is the electric citrus juicer, which is much like the old hand model I use, except the juicer turns so you don't have to work your wrist.

You can find the simple type juicer at your local drug store, hardware store, or grocery. www.discountjuicers.com is a good place to shop for the more advanced juicers.