Hearty Raw Garbanzo Casserole
by Hugh
(fairfax, ca)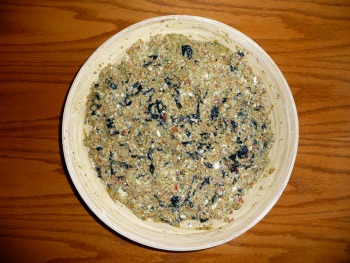 This is a stick to your ribs dish that will satisfy even the biggest of appetites. The ingredients are run through the food processor with the "S" blade and then mixed together in a large bowl. This recipe will feed two or three as a main course.

½ head cauliflower

½ head napa cabbage

3 carrots

1 orange bell pepper

1 red bell pepper

2 large tomatoes

¼ pound baby spinach

1 handful of fresh sprouts

4 stalks of celery

2 cups sprouted garbanzo beans

1 peeled lemon


Mix these in with other ingredients after they're processed.

3 sheets of nori seaweed cut into thin strips (I use scissors)

1 avocado diced or scooped out with a spoon in small bits.

Join in and write your own page! It's easy to do. How? Simply click here to return to Vegetarian Stew.
Subscribe to Vibrant Living Newsletter!