Cilantro Banana Shake
by Hugh
(Cruickshank)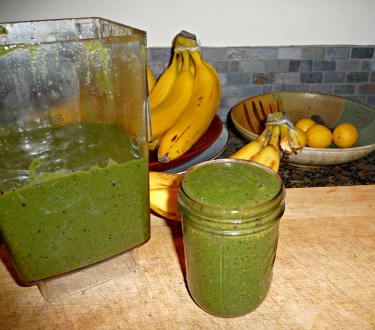 Cilantro Banana Shake is a sensational tasting smoothie for those that love their cilantro. Creamy, sweet cilantro goodness all blended together in this delicious green smoothie.

Ingredients

3 oranges

1 bunch of fresh cilantro

1 medium head of romaine lettuce

2 teaspoons of chia seeds

4 ripe bananas

1" chunk of fresh ginger root (optional)

Blend everything up in your blender until smooth and enjoy. I use a Blendec blender with the large Wildside jug which holds over a ½ gallon so if you're using something else you may need to adjust the recipe accordingly. I love my Blendtec and would encourage you to take a look at this very good blender.


The cilantro I used was from the farmers market was so fresh and tasty. I actually used half a bunch because the ones I purchased where huge.


Variations of the Cilantro Banana Shake

You could add in a handful of your favorite berries or half a lemon or lime for a slightly different flavor. In the photo above you'll see in this version I did add blueberries and a small ripe (yellow in color) lime. My original recipe did not contain them.

I know there are those of you out there that just love your cilantro and add heaps of it to recipes like I do. I am really drawn to it sometimes and then I may go for some time without having it. Usually with any food kick I get on I have it over a week or two or more and then move on to something else that's just coming into season or that I'm drawn to.

This style of eating works well for me as I get my fill of fresh good food in season then move on for some variety.

This recipes is also loaded with amazing nutritional value and helps me cruise right through the morning.