Banana Date Romaine Smoothie
by Gretchen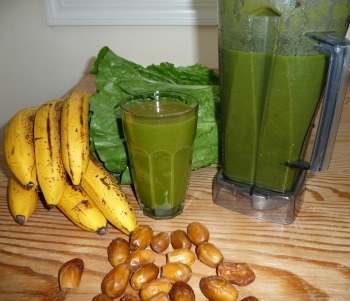 I prefer to use drier dates for this smoothie, so I pit them and soak them in a couple cups of water the night before. If you use moist dates and don't want to bother soaking them, then you will probably want to add a little water when blending your smoothie.


Place the dates (with the soak water) and romaine in your blender and blend on high until smooth. Then add the bananas and blend just enough to achieve a creamy consistency. You may use frozen or fresh bananas for this smoothie, and feel free to adjust the amounts of the ingredients to find the taste that you like best. Enjoy!
Ingredients:
Dates (approximately a quarter pound)
Romaine (1 large head)
Bananas (4 large)
Join in and write your own page! It's easy to do. How? Simply click here to return to Smoothie Recipes.